What better way to wind up the year than by playing for two benefit concerts? Unfortunately, Tom was snowed in and wasn't able to make it, and Tim did end up hiking the last mile home to his house. . . . but the weather sure didn't stop people who could get out of their driveways from supporting these very worthy causes! Our first stop was at a benefit concert for Michelle McClaughry at the Mission Mill Dye House. Tim's son Ian was responsible for this event and we are all so proud of the job he did (there were so many donated items for the silent auction that they ran out of tables!). We're not sure how this happened, but it started to snow just as we began our Christmas song finale! Off we headed to the Oregon State Fairgrounds Pavilion to perform for their annual afterglow party and Food Bank Benefit. . . . where we discovered that several groups had cancelled due to weather concerns. We were thrilled to help out and ended up performing an hour long set on a fabulous stage (kudos to Cascade Sound!) surrounded by all the floats from the previous nights Parade of Lights. It was incredibly beautiful! After our set we ran into our friends Robert and Ryk from Coyote Creek. . . . who proceeded to teach Kathy's grandkids just how fun it is to have a snowball fight INSIDE. Special thanks to Perry for posting photos on his blog. Click here to check them out!
The Dye House was warm and cozy on a cold winter day Playing in the glow of the holiday lights at You can always tell people who are used to
the Oregon State Fairgrounds Pavilion having their photo taken. . . we didn't plan the
symmetry of this with our friends Ryk and Robert
from Coyote Creek. . . . really!
Here's what Dennis had to say about both his songwriting and the process of recording the new CD.
"An ever evolving band, an ever evolving CD project. There's a surprise around every bend. The title track of this CD (stories never told ) is my way of letting go of my demons of the past - coming to terms with the death of a loved one and my alcoholism. It was one of the songs written after the project was underway. I believe there is something for everyone on this CD. I feel very fortunate to be able to work and play with some great musicians and all around nice folks who check their egos at the door, roll up there sleeves, and "git er dun!". Special thanks to Mark Gensman (producer and sound god ) of "Ground Zero Sound". Although an old Navy man, he pushed us "TO BE ALL WE CAN BE !"
We had the honor of being chosen to represent the month of November 2009 in the MySpace Artists for a Cause calendar. They've just released it, and here it it! Our "cause" is the Alzheimer's Association and our song is "She's A Stranger in His Mind" off our "Burning Down the House" CD. Special thanks to Brink Brinkman for finding Kathy and sending her the song!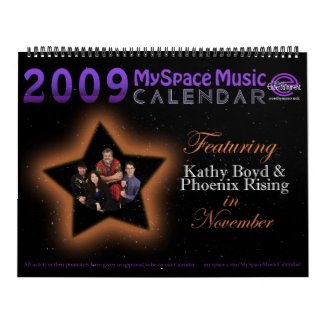 2009 MMC FEATURING KATHY BOYD & PHOENIX RISING -> CLICK HERE TO VIEW OR ORDER
October 30, 2008
We received TWO letters today that read in part:
"The Roots Music Association is pleased to inform you that you been nominated by our membership in the Song Writer of the Year Nomination -
Bluegrass category for our 2008 Roots Music Association Awards."
We were honored, delighted and - frankly - blown away to discover that BOTH Dennis and Tim are on the nomination list! Wow! The complete list of nominee's for Songwriter of the Year (Bluegrass) consists of: Ashley Gorley/Brian Simpson/Wade Kirby, Brandi Hart/Buddy Woodward, Buddy Cannon, Charlie Sizemore, Dennis Nelson, Donna Hughes, Gillian Welch, Jonas Kjellgren, Steve Gulley and Tim Crosby. The awards ceremony will take place during our upcoming World United Festival and Music Conference taking place in San Marcos, Texas on November 14 – 16, 2008. Be sure to stop by http://www.thewumf.com/index.php?page=vote and cast your vote before then!
October 25, 2008
One of the things we've come to look forward to each year is an annual visit to EZ Orchards for their Harvest Festival. It is truly all the best things about autumn in the Northwest gathered into one place! Some of our favorite memories of this performance include the young men who would climb on top of the hay bale "mountain" to dance to our music, the family photographers in the middle of the "Hokey Pokey" circle, playing fast and furiously as the backdrop to the pie eating contest, the friends and family members who came to enjoy the day and hear us, and the simple joy of being able to play the afternoon away on no one else's time schedule. Special thanks to John for inviting us back again this year, to Mike for the pictures, and to Cindy for the fabulous pizza feed after we were done for the day!
A beautiful location, a fabulous day and a Tom led his largest "Hokie Pokey" group this year! The kids were all fascinated by our various
great audience! What else is there? instruments.
October 11, 2008
It's been three years, but what a treat to return to the Ridgefield Birdfest and Bluegrass Festival! This event turns the entire town into a music venue and there are shows and jamming everywhere. We didn't get far from the Old Liberty Theater - where our performance was - but did have the opportunity to talks to folks who had toured the town and everyone had a marvelous time. It was a treat to run into our friends from Fiddlegrass in the green room and to meet up with the folks from Lee Highway while standing around the panea vendor and smelling the delicious smells coming off his grill! The Old Liberty is a lovely venue and the crowd was exceptionally responsive. Special thanks to Mason Smith for being such a gracious stage host and emcee and to Colby for holding down the CD table and being such a wonderful representative of the Oregon Bluegrass Association.
Kathy and emcee Mason Smith The Old Liberty Theater is a wonderful venue! Tom takes a moment to chat with
the builder of this beautiful "peace"
banjo.
September 26 - 27, 2008
What a treat to take a break from the recording studio and head for beautiful central Oregon and the Tygh Valley Bluegrass Festival. After arriving at the Wasco County Fairgrounds we set up our little "tent village" around the trailer of emcee George McKnight of Uptown Bluegrass, who graciously allowed us to use his kitchen to cook breakfast each morning and hosted those late night "gossip jams" under his canopy. Our cafe show Friday night was beyond awesome. The audience wouldn't let us go and we ended up playing for two full hours! Mid-way through the evening we were joined for a tune by our sound engineer Mark Gensman of Ground Zero Sound, who is also a professional saxophone player. It brought the house down! Saturday morning Kathy hosted the band scramble and delighted the winners with prizes donated by the RiverCity Bluegrass Festival. Saturday afternoon the band hosted the slow jam and gave both group and side lessons to those just learning their way around the various instruments. This year we had quite a crowd of observers also! Special thanks to Les McMasters for the loan of his guitar for this part of the festival. The rest of the weekend we hung out, visited, jammed, learned some harmonies and generally relaxed and recharged our musical batteries before heading back to the recording studio. Favorite moments? Kathy being carried across the festival grounds at a dead run by Ida Viper bassist Russ Baker and the now-becoming-legendary jam with our friends from Lee Highway!
Putting the blues in bluegrass with Mark G Leading the slow jam is always so much fun! Gene Hogan and Tom showing
off their "psychedelic side"
September 21, 2008
We've been working so hard in the studio that it was an absolute joy to spend an afternoon performing at the annual client appreciation event for C Morgan Davis! The event took place on Sauvie Island at Krugers Farm and included all sorts of fun stuff for the guests to enjoy including pony and hay rides, games, and of course learning dances as led by our own Tom Tower! The rain dampened NO ONE'S spirits, and everyone had a marvelous time. We took a basket full of prizes donated by the RiverCity Bluegrass Festival and had a great time giving them away in contests such as "a free t-shirt to the first parent who will confess they ate the chocolate chip cookie out of their child's "kid meal"! After our performance we were treated to all the fresh corn-on-the cob and BBQ we could eat. What a fun way to spend the last day of summer!
We loved the signage! Tom leads a rousing rendition of "The Hokey Pokey" A wonderful crowd in a lovely venue. . . what else could
you ask for? Bring on the rain! We had a blast!
August 2, 2008
The Wilsonville (Oregon) Fun in the Park Celebration has consistently grown by 2,000 visitors per year. This year over 12,000 people came to celebrate the town, it's families, and the businesses that support this award winning event (they had close to 150 different activity booths!). Strait Productions did an awesome job of making sure the entire park could hear what was going on at the main stage, the hospitality room was a riot of color and various types of performers from clowns to mascots to magicians to musicians, EVERYTHING at the festival was absolutely free, and a small army of volunteers made sure it all ran smoothly. . . wow! This was our last performance for a bit as we're in the studio recording our new CD, and what a great finale to a phenomenal summer! Thanks to Pascal for the photos, to Lucille for running the CD table, to Julie for being such a great hostess and to Robert for the great verbiage describing the band (it's already been added to the website!).
The hospitality room was a riot of color and Kathy takes a moment to share an ice Kathy having too much fun! Tom and Kathy start the show
different types of entertainers dance and cool off with a friend with a high energy duet
July 27, 2008
We arrived at the site of the Newberg Old Fashion Festival to the enthusiastic gospel rock sounds of Charles Patton and Friends. . . . and immediately got in the mood for our own high energy set! This event takes place in a beautiful shady park in downtown Newberg (Oregon), hosts a plethora of vendors and children's activities, and had the amazing Joel, one of our favorite soundmen of the summer! It was a day to connect with old friends and simply share the joy of a beautiful summer day. We had a wonderful time visiting with the volunteers, especially Jon Holt, who not only hired us, but had some amazingly touching stories to share. After the show we headed to J's Restaurant for dinner, where we got to take a peek at some of the REALLY OLD cars in the parking lot (we're talking wooden wheels here). Special thanks to Pascal and Jon for the photos of the day!
Two very high energy performers. . . Look at all those sponsors listed behind us. The town Dennis went "old fashioned"
Kathy and gospel singer Charles Patton of Newberg REALLY supports this event! for the day. Nice look Den!
July 26, 2008
Flying up to beautiful Bainbridge Island (Washington) has got to be the most serene and downright breathtaking way to start your day. Extra special thanks to Salem Air and Aurora Aviation for their help in making the flight possible! We arrived at the Bremerton Airport to be greeted by our super-friendly driver from Les Bagley Charters. Upon arriving at the Bainbridge Island Bluegrass Festival we discovered that EVERYONE had the same friendly and helpful attitude! We spent the afternoon hosting the Bluegrass Slow Jam (the jams changed genre's every two hours). We had so much fun with all the people we met, sharing their songs and doing some teaching on the various instruments. This was the first time we've hosted a jam that had young folk dancing in the middle of the circle the entire time! Each and every band put on a phenomenal performance to a hillside full of enthusiastic and appreciative fans. The wee folk were all having a marvelous time dancing in front of the stage and added to the family feel and enjoyment of the day. Special kudos to the band hospitality folks, who kept us well fed and hydrated all day, to CBC Chocolates for sending us home with their fabulous chocolate concoctions for our families, to the members of Whiskey Puppy who supplied Kathy with an acoustic bass for the slow jam, to the gentleman from the Home Depot Booth who gave Kathy a pair of sunglasses as hers had stayed in the airplane, and to all the volunteers of Music Community Resources who made this event such an outstanding success!
Giving some 1-on-1 bass This young gal danced to the slow Playing to a highly enthusiastic crowd! This festival was all about the wee folk
instruction jam for 2 hours and never broke a
sweat!
July 25, 2008
We opened the Friday night show for the Estacada Summer Celebration to an enthusiastic crowd (including some folks Kathy hadn't seen in about 20 years!), beautiful weather and the nicest volunteer staff, emcee and sound guys around! Estacada has turned into a fabulous arts community, with a population that is both grateful and appreciative of the multiple genres and types of art this festival represents. Our favorite part of this performance were the entire families that would get up and dance together, and the little ones who all asked so sweetly for their own free fan that the producers of the RiverCity Bluegrass Festival had sent along. Special thanks to Dan Bennett for the photos.
'Free stuff" from our sponsors was quite Sharing a moment of fun Cheering Tom on during a banjo break
popular. Lots of good promotion for both
Black Diamond Strings and the
July 19, 2008
The Annual Robin Hood Festival takes place in beautiful old-town Sherwood, Oregon and hosts a variety of genres of music over a two day period. This event has been around since 1952! We were thrilled to have been asked to represent bluegrass and to be able to share with the audience all the wonderful things that have happened to us this summer. Grandma's Trunk supplied Kathy with a crown of ribbons to go with her "Maid Marian" hair, and the numerous vendors all had something unique and exciting to offer (elephant ears for Dennis!). Congratulations to the Maid Marian Court and to all the volunteers who work all year long to make this event so successful. We hope to return again!
Nothing like a nice shady stage on a hot day! This was our young fans first taste of Kathy really liked her
bluegrass. We think she'll grow up "Maid Marian" head gear!
to be a banjo player!
July 2008
What a lovely surprise to be asked by Eric Cole of World Wide Bluegrass for the use of Tom Tower's song "Flying Bear Breakdown" for use in the background of a commercial for his show! Click here to take a listen, and be sure to tune into www.worldwidebluegrass.com whenever you get the chance. Stop by the chat room too. . . it's the friendliest place in cyberspace!
Check out Eric Cole and Eric's Oregon Territory Bluegrass on Wednesdays 2pm-4pm EDT

July 12, 2008
The CD Journey Continues. . . . This was the bands turn to get our photo taken for our upcoming CD "Stories Never Told". It was so much easier to shoot the front cover (see May 17th below)! We found a beautiful location at the Oregon 4-H Center that fit all our requirements of continuing to use the CD cover to tell the story of "Living in Those Hills So Far Away". Assistant Manager Connie was gracious enough to give us the run of the place in the middle of a very busy time for them, and we appreciate it! Jayesunn Krump of Vanished Twin Photography did a great job of "herding cats" and getting us all to stand in the right place at the right time. . . . . although he did miss the fact that if we all stood on the same corner of the dock it would sink (which gave us a laugh and did cool off Kathy's feet rather quickly)! Here are a few shots of the day. . . . watch for more photos on the website soon!
Photographer Jayesunn checking Tim and Jayesunn discuss location and poses When the photographer tells you to
light and angles "go stand over there"....off you go!
June 29, 2008
The Salem (Oregon) World Beat Festival is an amazing array of sites, sounds and colors that will make your head spin and your feet want to dance! We had the honor of representing the music of America at a VERY WARM Sunday afternoon performance. We didn't get a lot of photos, but Salem's own public television station, CCTV, filmed the entire performance and folks from the Willamette Valley of Oregon will be able to see the entire show on Channels 21, 22 and 23. Add to all of the above the amazing tastes and the shopping and it was a full-blown wonderful experience (Tom hit pay dirt with a BEAUTIFUL new stage shirt!). Would you believe this entire festival is run by volunteers? Special thanks to Marissa and her crew, they do a wonderful job!
The amphitheater at Riverfront Park is a beautiful stage Our set was timed to herald the arrival of the parade
of nations
June 21, 2008
The Amboy Bluegrass Festival is an absolute gem of an event. The location is gorgeous, the weather more than cooperative, the producer and committee members are EVERYWHERE, the line up so fabulous that the bands were all making time to come see each other, and the folks in attendance were having so much fun it was contagious! This was only the second year for the Amboy Bluegrass Festival, but it has the feel of a well cherished tradition. We only had time to stop by for one set this year, but hope we'll have the opportunity to return and stay longer next time! (Thanks for the pictures Cleve!)
The crowd made it easy to be "high energy"! This is the roof of the stage. How fun is that!? Check out that scenery behind us. Wow!
June 21, 2008
What better way to celebrate the first day of summer than by playing music for a wonderful cause? Our day started with a stop at the Oregon Brews and BBQ's Habitat for Humanity Benefit in downtown McMinnville, Oregon. We were amazed at the turn out for this first year event (it was estimated that there were over 2000 people on site at one point). The weather was perfect, the volunteers were all smiling and the attendees were having a wonderful time sampling the barbeque and various varieties of beer. The kids area was not too far from the main stage, and we had a wonderful time being entertained by the youngsters in attendance. Congratulations to everyone involved in this very worthwhile event!
Burning up the stage for the afternoon crowd Tim took a moment to support the cause after our performance
June 6 - 7, 2008
It was such an honor and so darn much fun to spend two days at the internationally acclaimed Portland Rose Festival! Friday we performed on the WAMU Big Top stage and Saturday on the World Beat stage. Both fabulous in their own right! We met people from all over the United States and finally got our fill of elephant ears (and clown noses. . . . there were LOTS of clown noses). Saturday morning we got to visit with the sailors from both the US and Canada, and Tim's wife Cindy walked right up and got a front row seat for the parade. . . . . which is unheard of! Thank you to Tony, the sound guys, Bob the stage host, the Rose Festival Association and everyone else responsible for the success of bluegrass at this event. We got so many wonderful photos from our friends Samantha and Dana that we had to make an entire slide show for you. . . . enjoy!
June 5, 2008
What a great time Kathy had being interviewed by Uncle Billy Dunbar, host of "Country Unplugged" on World Wide Bluegrass! They chatted about everything from songwriting to science fiction for a little over eleven minutes. You won't get the songs he played to go along with the interview here, but do take a listen by clicking here.
Special thanks to our friend Uncle Billy Dunbar for a fabulous interview!
May 30 - June 1, 2008
Goldendale Fiddlin' Around the Stars Bluegrass Festival
We were pleased to be asked back for the second annual Fiddlin' Under The Stars Bluegrass Festival in Goldendale, Washington. It was a weekend of firsts, seconds and contrasts. Last year, same weekend, the temperature was 106 degrees. We made jokes with our good friends, Lee Highway, about who looked more soaked and salt blinded coming off the stage. This year was considerably cooler, and downright chilly into the evening as we enjoyed the performance of our friends Ida Viper. Even Tom, who is typically oblivious to temperature, borrowed a jacket. One of our highlights was playing at the Golden View Terrace Assisted Living Center. We were sponsored by Allyn's Building Supply and were delighted to play for folks who wouldn't otherwise get to a festival for live music. Another first, thanks to the sponsorship of Salem Air and the bush piloting, barn storming airplane skills of our guitarist, Dennis Nelson. The band flew to Goldendale and landed at their "international" airstrip next to the county fairgrounds. Beautiful flight with a crow's eye view of the scenery that makes the Northwest so remarkable; deep forests, the Columbia River Gorge and four different mountains of the Cascade Range. Altogether, a wonderful weekend with music aplenty and reunions with so many friends in music.
Performing at the local assisted living was The city park gazebo made a beautiful stage. The flyboys of Phoenix Rising!
such a treat!
May 23, 2008
Kingstad Theater
The Kingstad Theater is absolutely gorgeous, the food is to die for, and the staff and owner are so nice you feel like family from the moment you walk in the door! OBA board member Cleve Friedman and his friend Eric Kingstad are working hard to make this venue "the place" to go see bluegrass performances in the Beaverton, Oregon area. We had a small but VERY enthusiastic crowd, including the comedian who was hired to perform next door! Kathy did wear her new glass slippers and Tommy did a wonderful job considering he had just gotten a full length cast off of his right arm the day before. We jammed, we performed, we ate so much we could hardly waddle out to our vehicles. This series will start up again in the Fall and we HIGHLY recommend you get it on your calendar to attend the shows there!
Dennis enjoys some jam time with friends and fans Tom was in great form all night! Tim had the pleasure of
performing on his student
Joe Bakke's new Eastman
mandolin (pictured here
with daughter Anna)
May 17, 2008
The CD Journey Begins. . . . We've spent the last year writing and arranging songs and now it's time to get serious about our next CD! This afternoon we did the cover photo shoot with our young friend Henry Hakanson. Henry has been a family friend since before he was born and is the son of Great Northern Planes mandolin player Rob Hakanson and his bass playing wife Kathy Fetty. Ten year old Henry is not just a model, he really can play that fiddle! Henry has played three seasons with the Portland Metropolitan Youth Symphony, performs with the Hakanson Family Band and has played fiddle more than half his life. When he's not playing music Henry is a soccer player and tournament chess competitor. Our photographer was Jayesunn Krump of Vanished Twin Photography. He did an amazing job of taking the story in a song and turning it into a photo! We can't wait to see what he does when he shoots the whole band for the back cover! Stay tuned!
Henry's Dad Rob video taped his sons What's a photo shoot without taking time to Henry showing off his paycheck with
modeling debut! play some music? photographer Jayesunn.
April 5, 2008
Each year we perform at the Heritage Center in Tualatin, Oregon as a "thank you" to our hometown. This year we decided to also make this concert a benefit for our friends at Operation Happy Note, a small non-profit organization that provides the gift of musical instruments to our overseas troops. A packed house not only contributed to a worthy cause, but got to enjoy a lot of the new songs we've been working up over the Winter. We'd like to thank everyone who took part, especially Home Instead Senior Care, HIlltop Tax Service, Whole Being Healing, Uptown Music, VA Post 2452 Lee Rodgers of KUPL 98.7 FM and a handful of individuals who made extra contributions to our efforts. We are thrilled to report that we were able to send Operation Happy Note $250 in cash donations plus two complete guitar kits donated by Uptown Music! Be sure to check out our video cut of the story behind "12 More Miles to Clatskanie" on YouTube! Thank you to everyone who made this such a memorable evening for all of us!
Sharing harmony "High on the Dennis singing the song our new CD cover Tom and Kathy having too much fun!
Mountain Top" will be based on.
February 2008
What do we do between shows? Play music of course! Here's how Tom Tower our banjo and Dobro player plays away his spare time. He keeps up his guitar and washboard chops. Tom entertained Kadel's fifth year birthday party. He holds the undisputed first chair in washboard and percussion for the Sussefusse International Folk Dance Orchestra just playing an Albanian dance party in Eugene and a family folk dance night at Fulton Park. Tom also went to the Wintergrass Festival in Tacoma, taught his Stage Fright Workshop and said hello and bought some new books from our friend and sponsor Mike at Tricopolis. For years, Tom has performed a monthly song and story time at the Portland French School. This year, he was joined by friend and colleague Sharon Gary-Smith to celebrate National African-American Heritage Month. The kids were all ears and questions to learn how to "follow the drinkin' gourd" to freedom.
Entertaining at the French School With sponsor Mike from Tricopolis Records Playin' washboard in the orchestra!

February 2, 2008
One of the greatest venues in the Oregon Willamette Valley is the Mt. Angel Performing Arts Center. It is always such a pleasure to return here to perform, and this cold and rainy Winter night was no exception. Wonderful audience, great sound (thanks Mark!), warm hosts Ken and Margaret Doran, and of course the traditional photo taken by Stu Rassmussen for the "wall of fame" in the lobby. It all added together to make a fabulous evening full of surprises and fun. We're already looking forward to our next opportunity to perform here! Special thanks to Cindy for the video and Mike for the photos! (Click here to see video of the performance!)
Dennis checks Kathy's makeup before A great stage with a wonderful audience. . . Belting out that three part harmony
heading for the CD table who could ask for more!
January 11 - 12, 2008
It was our first experience attending the annual convention of the Oregon Fairs Association, and what an adventure it was! Things started out with Kathy and Tim attending the "speed dating" event where you got two minutes face-to-face with every fair board in attendance. As there were more vendors than fairs, it was a great chance to meet other folks we hope to run into over the summer! We were one of the only 10 showcase acts for the entire weekend, and played a great set on Friday evening before dinner. It was all just so much fun that Kathy and Tim returned on Saturday for another round of networking and follow up, and to take part in the OFA Scholarship Auction (Tim got to carry heavy stuff and Kathy got to do things like ride the John Deere bicycle - complete with training wheels - through the crowd!). Tim stayed for an all-star jam in the hospitality suite of our friend Marty Davis. . . . until the hotel kicked them all out at midnight! This was new territory for us, and we feel so blessed to have been so warmly received and made welcome by so many folks. Special thanks to Nevada Slim and Cimmaron Sue for taking us under their wings, and to the Kate White Band and The Hot Shot Tap Dancers for just being so darn much fun!
Tearing it up at our showcase! Our new friends and fellow TriStar We felt like we'd known Nevada Slim
Entertainers, the Kate White Band & Cimmaron Sue all our lives!
January 4 - 6, 2008
What better way to start the new year than by taking part in the RiverCity Bluegrass Festival? Things started right off with an interview and acoustic performance by Kathy and Tim on the internationally syndicated "Back Porch Show" show with host Mitchell Keller. As soon as that bit o' fun wrapped up we headed to the Oregon Convention Center where the boys were the "official jam hosts" for the weekend and Kathy took care of hosting the Cascade Stage. In addition to these duties our own Dr. Phil of Bluegrass (Tom Tower) lead his Stage Fright workshop not once, but TWICE to packed rooms and Tim spent time demonstrating the raffle instruments on the Cascade Stage and helping out with the Ground Zero sound workshops. Not to worry, we still had time to enjoy the wonderful variety of music at the festival and hang out with our vendor friends, especially Tricopolis Records, Nechville Banjo's, Whole Being Healing and Love Lite Precision Tie Dye Apparel (look for Kathy to have some great new tops soon!). It was a fabulous weekend and we were proud and honored to be a part of this first class festival!
There were lots and lots of Chatting with Mitchell Keller of Tom and Dennis hosting the official jam
babies in attendance this year! the "Back Porch Show"